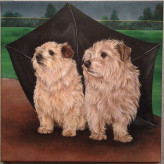 Welcome to Rain Dogs Pet Grooming, owned and operated by Venice FL dog groomer Jeniffer. We welcome dogs, cats and rabbits of all sizes!
Your pet will be treated with kindness, gentleness and love! CALL: 941-485-8888 today! View your pet being groomed on live WEB CAMS!
Number 1 dog groomer in Venice, Florida. We are perfectionists! Haircuts are meticulously done, no choppy jobs here!
Unlike many other pet salons, we don't use cages. We do have cages on hand, but will only be used at owners request. We also have a wonderful pen for  blind or pets with special needs. Each pet is treated gently and with love, as if your pet was mine.
Free frills and finishings! Including all bling and Bow-Wow Bindi's
I reconfirm all appointments the day prior with a reminder call to our pet parents.
Unlike most grooming businesses, I schedule limited appointments per day for individualized attention. Your pet will be done start to finish before the arrival of the next scheduled client. This assures focused, individualized attention. Most shop owners demand a minimum of 6 pets (and more) to be done by the groomer. This puts added stress on the groomer who will juggle 2 dogs at a time with bathing, drying and grooming.
Your pet WILL be told they are loved while at Rain Dogs.
Book you appointment now, so you can say "I am a Rain Dog too!" 
Call the best Venice FL Dog Groomer at 941-485-8888 or walk right in!
Rain Dogs Pet Grooming rated number 1 Venice FL dog groomer – Tender & Loving Care. We are perfectionists, perfect cuts every time, 127 Tampa Ave East, Venice FL 34285
Read More