Only found at our pet salon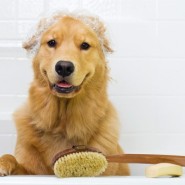 Most loving Dog Groomer Venice FL
Cage free dog grooming with windows. This lowers separation anxiety.
Pen area for blind, special needs or shy pets.
We have live web cams!
Walk in's welcome
I'm also a Cat groomer
Complimentary plum facial scrub
All pets get FULL prep in, even if it is just a bath… which includes:
Nails cut and and smoothed with dremel.
Ears plucked, flushed with an all natural lavender ears flush, then protected from water and sound of dryers.
Sanitary trim.
Paw pad hair trim.
Eye corner hair trim.
Anal glands checked.
Brush out or de-shed if needed.
Plum facial.